The day of the Whitstable Barge and Smack Race is here. Because of the tide we are to leave the harbour at 11 o'clock and the race starts at noon. Since it is still early in the day, I decide to go for an extended photo walk along Harbour Street - where the shopkeepers have just opened their doors and early shoppers fill the streets.
Once back I search out Frank for the promised crew member and big surprise, at the skipper meeting he tells me, Vic, a good friend of his wants to come along and then there is Justin, who promised last night to come to sail with us. Before they are to arrive, I clean up down below and prepare a few little goodies, like the fresh oysters I bought earlier at the harbour festival, which happens with stalls, selling second hand and new stuff, foods and the usual maritime fair.

Both crew members arrive in time and after introductions and the fresh oysters as a welcome snack, we throw off the lines and motor with the others out to the committee boat, where we set sail. The race is a lot of fun, but due to a few mishaps with the rig - especially with the topsail, which has not been hoisted after setting the mast in June and some of the lines run afoul - we cross the finish line third before last. In any case, the view of the other boats was stunning, Vic is an experienced and knowledgeable sailor of the local waters, who did most of the steering and everybody seems to have enjoyed themselves.
As if just for the price giving ceremony the sun breaks through the clouds and the ceremony becomes a real summer spectacle on two of the bigger boats - I applaud all the winners, not the least bit disappointed not to have won a prize.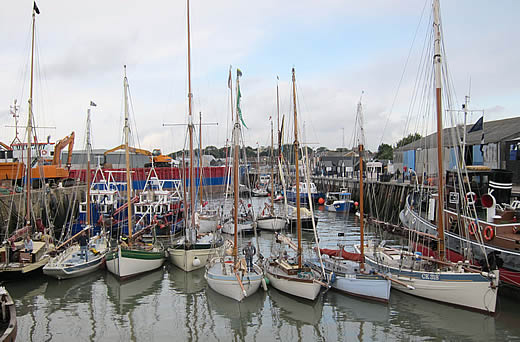 When back on board, everything is in the mess I left it in after the race, but there is a small party on the boat lying alongside - people of all ages are sitting on deck and in the cockpit, some with glasses of red wine in their hands. I get offered one myself by the skipper Richard, which I can not refuse and am introduced all around and asked to say a few words about Betty. I try to give my usual spiel about the former oyster smack, lovingly converted to a smack yacht in the 60's, all this while I tend to the loose ropes and sails lying all about. This, of course, is not so successful and only some time later, with a couple of visitors down below, I manage to finish my story, thinking all the time, what a wonderful beginning of my journey to the Thames Estuary this has turned out to be.